Here's What These Raving Fans Are Saying About Our Team!!
10 out of 10. I realize this seems a little over the top giving you 10 but I am extremely picky about things (ask Tim or my kids) and you were fantastic. We were in a situation that was very stressful, in fact life changing and you helped us more than you can imagine. You were professional and worked hard for us. You were honest and trustworthy. I am so happy with our experience with you. I have referred another person to you. They are in the middle of refinancing right now. I would not hesitate to recommend you again.
Tara & Tim – Kelowna, BC
***
I received April's name from a family member and it was truly a rewarding experience.  April got my husband and me hooked up with the proper mortgage company who best suited our needs and in no time we were well on our way to getting our dream home. I'm very pleased to say I would definitely refer April Dunn to anyone who requires dedicated, professional, and friendly advise when buying a home. Thank you April for your excellent service.
Lorna & Jason – Kamloops, BC
***
"I'd give April 10/10.  She understands her clients' needs and is a pleasure to work with.  I would not hesitate in recommending her services in the future."
Tracy – Kelowna, BC
***
April did everything for me, even coming out to my place of work to explain things to me and get the required signatures. All I had to do was deal with one phone call from the previous lenders so that I could give them permission to sign me over to the new lender.
Karen – Kelowna, BC
***
Constant communication! I was pleased with your effort and the outcome fit my needs! Thank you so much! 
Jarret – Salmon Arm, BC
***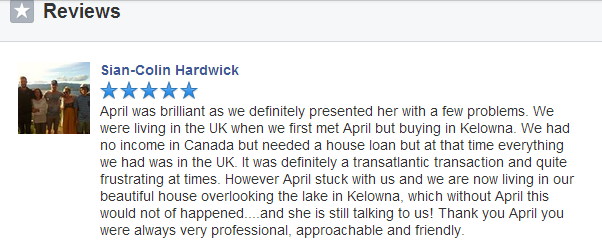 ***
Whether it was buying a house or setting up a line of credit April was professional and efficient.  She would have everything in order and it was an excellent experience dealing with her.  Thx April for all you do.
Tim and Tania – White Rock, BC
***
I would like to thank you for all the work you did on our behalf to streamline the financing of our new home.  Managing the financing maze without you would have been very difficult for me and am grateful that I did not have to.  You were always right there when I had a question and I never had to wait long for a reply from you no matter when I sent my email or called.  I felt respected at all times and you were very easy to trust, as the depth of your expertise was evident every time we spoke. You were very thorough and everything fell into place very quickly.  (You are also fun to work with!)  On a scale of one to ten I would rate your services a ten, hands down, and would recommend you to anyone who was looking to buy a home.
Ramona – West Kelowna, BC
***
"When our 26 year old daughter Laura was looking at taking the leap into the home owner market as a young, single first time home-buyer, there was not a lot of  support from the "traditional" avenues for lenders .  April Dunn from The Red Door Mortgage Group met with Laura and walked her through the process from inception to completion.  She explained the entire process and what to expect so there were absolutely no surprises at all.  All the avenues and options were explored and explained, and April even provided some suggestions and options that Laura had not considered.  April made herself available to Laura 24/7., and used her extensive knowledge and network of business connections to secure an even better mortgage rate than traditional lenders were willing to give a young girl!  She kept Laura informed constantly on the process, working with and for Laura in her best interest, and in no time at all, Laura was the proud homeowner of a place to call her very own.  This would not have been possible without the efforts of April and her company.  I would not hesitate to recommend April Dunn to anyone looking to purchase a home, whether it is their first, or their retirement investment, and I extend my sincere thank you to April for helping Laura achieve her goal!"
Marilynn – Kamloops, BC 
***
"April is an angel within the vast sky of mortgage brokers. Our personal experience was beyond words. April was able to perform a mortgage miracle with our situation when others tried and failed. She gave life to our hopes of home ownership. We are constantly reminded of her kind, professional and efficient work as we enjoy our new home. We feel grateful and honored to recommend April to anyone interested in anything to do with mortgages."

Michael – Kelowna, BC
***
"We really appreciated your professionalism and friendly attitude. You went out of your way to help us even though we had never met!  You worked within a very short time frame and kept us informed about what was happening and what paperwork you needed from us to complete our application. You got us a very good rate and we would highly recommend you to others. We also appreciate the emails you send to keep us informed about what is happening with mortgages. Thank you very much for everything."
Dean & Teresa – Vancouver, BC
***
"We feel you did a super job in finding us a lender. All our requests were met. You explained things clearly and ensured us you are available when ever we have questions or concerns. You are personable and easy going and we never felt pressured into doing anything we didn't want to do. It was a pleasure doing business with you."
Rick & Sandie – West Kelowna, BC
***
"You were awesome. I enjoy your FaceBook links – very insightful."
Chantal – Edmonton, AB
***
"April you did a great job. I was very stressed and you took over and did everything and kept me up-to-date on things."  –
Lesley, Kelowna, BC
***
"We can't thank you enough for all your help & hard work. Without you this would not have been possible. Thank you so much!" – Suzi, Inga & Devon
First Time Home Buyers – Maple Ridge, BC
***
This is a quick note to say "Thank You" to April Dunn for her help, assistance and calm personality during the process of buying our home.
This was Andrea's first home purchase and it is needless to say that it can be scary. Things went from slow to superfast and April took the time to explain and make things clear. The process was quick, what could be taken out of our hands was done for us.
We're happy where we are today and April helped us get here.
Thank you   Andrea and Steve
First Time Home Buyers – Kelowna, BC
*** 
Thanks again April. I know I called a lot and was frustrated at times with the notary. You were positive and professional the whole way through. We chose to work with you again because of our past experience. Lots of info, your positive outlook and all the options you provided for us. You get the job done.
Thanks – Tim
Past Client – Surrey, BC
***
Thank you again for getting our mortgage approval done so quickly. We were able to reach you on a Sunday and have it all done by a Wednesday/Thursday! Everything was so smooth!
Erica, Danny, Darrel and Marcia
First Time Home Buyers – West Kelowna, BC
***
A true professional in this industry. You make this process easy to handle. We cannot see why we would look for anyone else. Great job April!
Brent and Miriam – Westbank, BC
***
I will most definitely recommend you. I thought you were very professional and thorough. Always kept me informed of what was going on. Thank you!
Cindy – Peachland, BC
***
I feel April is a very good person, easy to talk to, returns calls, available all hours, she deals with problems. She got us a great rate. Having a broker who is there for our needs was the best part. April came through with the best deal and the best service.
Steve and Carrie – West Kelowna, BC
***
We were very pleased with the service you provided to us. At the close of the purchase deal it felt good to believe we had the best mortgage arrangements we could get – thanks to your efforts.
Diane and Sandra – Westbank, B.C. 
***
You did a fine job for us. Thank you again. We will recommend you to friends if they are interested in purchasing and refinancing.
Kim – Vancouver, BC
***
This was our first time purchasing a home. April you were "awesome" and were very friendly and professional!! You should be recommended for all your work and helping us achieve our New Home! Thank you! We fell anybody else would benefit from your expertise and friendliness!
Jim & Sherry – Kelowna, BC
***
You were great for pulling things together quickly. You did a great job give the circumstances and time constraints. I would recommend you to friends and family.
Theresa – Vancouver Island, BC
***
April, my mortgage process was seamless. You informed me well of all my options and listened to my needs. I appreciate how you outlined option "A" & "B". I also appreciate you explaining how the "penalty world" works. Wonderful professional job!!
Adam – Kelowna, BC 
***